There is nothing more powerful than being in a mindset  of gratitude and that is why I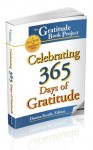 choose to be a co-author for The Gratitude Book Project: Celebrating 365 Days of Gratitude.
As cliche as it sounds gratitude really is a cure-all for what ails you. My story in the book talks about a special person in my life who always brings a smile to my face especially when I'm feeling anxious or overwhelmed. No pills needed just a thought – a grateful thought of how blessed I am.

Editor Donna Kozik and her team put together this  brilliant project and to pay it forward the national sales proceeds go to charitable organizations: Feeding America, ASPCA, Make-a-Wish Foundation, Women for Women International.  How perfect is that?!
This is an excellent gift for anyone on your list and I highly encourage you to pick up a copy today at Amazon.
The Gratitude Book Project: Celebrating 365 Days of Gratitude gathers together more than 300 coauthors who answered the question "What are you grateful for?" The project is now a book found on Amazon.com . Allie Casey of alliecasey.com and reinventionintervention.com  is a co‐author in the book. Find out more at http://amzn.to/fbXLpN