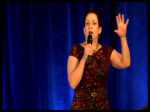 Okay, I've ranted (albeit nicely) about this before but I'm compelled to do it again.
Why?
Because I just witnessed it again…that's why.
What am I talking about? Small business owners who give talks at networking events to showcase their talents but fail to grab the audience's attention.
Maybe this is my movement…helping entrepreneurs become powerful, effective speakers so they can serve more people!
Many small biz owners tell me they are fine speaking one-to-one with others during networking events…and that's a great skill to have. But imagine how much more effective they could be speaking to their ideal market …one-to-many?
Certainly would leverage what they tell me they do well.
Certainly would increase their reach.
Certainly would increase their public profile.
Certainly would get them more clients.
So why isn't this happening? Read more