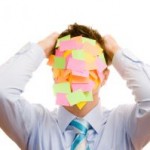 How successful you are at communicating determines the degree to which you will be successful in business. Giving instructions, conducting interviews, presentations or selling all involve communication.  Where do you stand?
"The way we communicate with others and with ourselves ultimately determines the quality of our lives."
Tony Robbins said that and he was right. The good news is that communication skills can always improved. Start by evaluating your current ability.
Here are a 5 ways to determine how successful you are at expressing yourself:
Ask for and listen to feedback. Most people are fearful of doing this. Few people like to hear the unvarnished truth about how well they come across to others. Yet, this may be the key to unlocking your business growth. Ask people you trust to give you an honest response. Ask a mix of family, friends and business associates to get a better profile. Then listen, really listen. Decide what might be true and choose to make some changes. Be open to the information and thank them for their honesty.
What kind of clients do you have? Are you working with people you enjoy and respect? Do they express themselves well? Do they recommend you to others? 
Would you want to associate with you? What message do you send to others about the people you socialize and do business with? Do you have a variety of associations? "You can't fly with eagles if you're hanging out with turkeys," is a saying that holds a lot of truth. Take a critical look at your relationships and ask yourself if you need to make some changes.
How careful are you about your written or viral communications? Have you gotten lax about grammar and spelling? Do you speak or write in "text?" Do your articles, reports or books have numerous errors that erode your credibility?
How well do you follow-up? This is a big one. Success in personal and business relationships has everything to do with how well you follow-up. I'm including the courtesy of responding to an RSVP on an invitation. Failure to respond affects business—it doesn't matter if it's a wedding or a business function—the consequence is far reaching. If this were the benchmark for successful communication most people would be in trouble. On the business side, customer dissatisfaction is overwhelmingly about the lack of follow-up.
Take an honest look at these questions. Choose one you know you can change immediately and implement it now.
Leave me you thoughts. What burning question do you have about communicating in business?