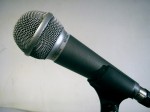 I was invited to listen to a speaker recently who was  promoting a one day program around sales, success, internet marketing and the like.
The speaker was energetic, had the requisite handouts and sales forms and gave some valuable information that made the audience think. We were asked to look at the tools we were using and assess whether or not we were up-to-date with our phone technology so we could contact anyone at any time.
Now, I love getting the opportunity to listen to seasoned pros do their thing. It helps me get better or at least reminds to do things I know to do but maybe I've forgotten to do.
But, I was left flat. Let me tell you why.
As much as our speaker stressed the importance of staying on top of technology the content of  the speech was really old.
The exercises were tired, the name-dropping included the deceased and I swear, if I hear "the girl scout story" one more time I'm going to tear out what's left of my hair.  (Honestly, when was the last time you had a Girl Scout come to your door?)
All I'm asking is for is that your talk provides  some value, shows me your a credible person, and that you make an honest connection with me through a story that is authentically your own–not someone else's.
Yes, there is a way to craft a talk that you feel good about, that honors your audience's intelligence, shows your vulnerability and still allows you to makes an offer your audience will love.
That's why I created the Say It to Sell It Now! System.
If you want to learn a bit more about what you need to begin crafting your "personal keynote" then check out these Free videos:
Say It to Sell It Now/ Free Video Tutorials!
And if you are in the Orlando, FL area on August 20 then you'll want to join me for this power packed one day Say It to Sell It Now! Seminar.
Say It to Sell It Now! One Day Seminar