In its simplest format  the ghostwriting process for a book works like this:
1.  After a short conversation (15-20 minutes) to discover if we are a match,
we meet for a longer 60-90 minute conference call. On this call we confirm
a time frame for your project, a call schedule for interviews, and we agree
on billing. We also look at your purpose for your project, your target market,
and an overview of your content.
2.  We meet by conference call (to record the sessions) according to the
schedule we previously setup. This might be one call per chapter or section.
I adjust the calls to the type of project we are creating.
3.  After each call, I follow-up with any agreed upon research, have our calls
transcribed and begin writing.
4.  Chapters/sections are forwarded to you for
editing and comments. I rewrite…and rewrite until you are happy.
5.  Final manuscript is forwarded to you for approval.
Simple. But not always easy.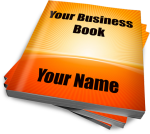 Why? You must show up for the calls and provide enough unique material
to fill a chapter. Being prepared for each call is essential to keeping to our
time frame for getting your book completed.
My goal is to help you put your content into a business book/ebook targeted
to your market that will increase your business, your credibility and your profits.
Maybe you don't need a book. Maybe you need a booklet, a promotional
eBook, an interactive workbook, website homepage or an online sales page.

Maybe all you have is an idea. Let's chat!
We'll work out a time frame and schedule that works for you.
Call me! 407-313-4967 or Fill out the contact form below.