It is with great pleasure that I host fellow author Dorit Sasson, on the last day of her virtual book tour.
I met Dorit in the Working Writer's Club and was struck by her passion for helping others especially teachers. That passion is apparent in her current project, Pebbles in the Pond: Transforming the World One Person at a Time.
Today, we learn what's next for transformational author, Dorit Sasson.
Hello everyone!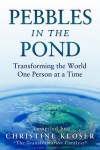 My name is Dorit Sasson, and I'm a contributing author of the transformational book, Pebbles in the Pond: Transforming the World One Person at a Time.
I've been asked to briefly talk about what projects I'm currently writing now. Well, for starters, there are two projects I'm currently spending a great deal of time on a book that is under contract with Pearson education on teacher collaboration for the sake of ELL students. This book (g-d willing) will be published sometime next summer.
And then, there's my "love book" about giving voice to story entitled, Giving Voice to Voice: Transforming Your Life and Business in Story. Because I'm knee deep with my collaboration book, I'm currently finalizing a stand-alone coaching product that includes templates and checklists for clients to use on how to give Voice to their pain Stories and also how to apply the insights they have learned as a form of self-discovery and healing.
I created this product for clients who want to infuse Voice to their Stories that have evolved as part of who they are. In fact, the mission of "Giving Voice" is to use voice as a Story medium to help people who are experiencing disconnection and pain. Motivated by my own personal transformation, I want to help clients try to find the light.
Many of these clients feel they need to reinvent their current business, trade or passion. They feel like they are "edge walkers" and "outsiders" of their own story as they need to heal themselves with their own tribe. These clients come to me after we discuss their Story intentions in a 30 minute complimentary Story strategy session. Please feel free to contact me if giving voice to your Story speaks to you.
This stand-alone project is actually part of my business vision, book and website, Giving Voice to the Voiceless: A 5 Step Program to Transforming Your Life and Business in Story. The site was launched in March of this year and I'm very passionate about giving Voice to Story.
The coaching program will be finished in a few weeks and will consists of audio and written components designed to appeal to a wide variety of learning and processing styles.
The book will be released later on this year.
In the meantime, please check out the following links:
Listen to my chapter, "The Best Time to Get in My Way" on YouTube
Pebbles in the Pond: Now Available for Pre-Order
Pre-Order Your Copy and Receive a Transformational Bonus Pack – Offer Good until Midnight, May 19th